Halloween is just around the corner, so I thought it was the perfect time to talk about one of my gardening goals: a section of my garden devoted entirely to dark plants. There is just something so intriguing about dark-colored plants to me. I am drawn to them whenever I'm browsing at a plant nursery or exploring Instagram. Dark red, dark purple & pure black plants stand out like no one's business in a sea of green plants. When planted in your garden, a couple of dark-colored plants definitely grab your attention and passersby will certainly stop & stare at them for a bit. But a whole section of your garden consisted of only dark plants will get people talking. I want to get people talking about my garden, don't you?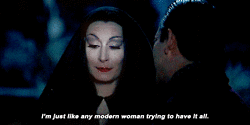 While I haven't completed my full-on dark garden section goal yet, I am well on my way to getting there. I started by planting very dark purple tulips 2 years ago named, Queen of the Night. These are my favorite tulips of all time. They are simply stunning in the landscape & in floral arrangements. A vase entirely of just these super dark purple, nearly black tulips is a sight to behold. They also look great in a vase mixed with white tulips.
Last year I followed it up by planting Black Parrot Tulips alongside my Queen of the Night Tulips in my Morticia Addams garden. Stunner meets stunner is basically the best way to describe how these tulips look together. I love a good texture and the feather-like petals on the Black Parrot Tulips really make them pop. The classic shaped Queen of the Night and stand out shape of Black Parrot are a match made in Morticia's greenhouse.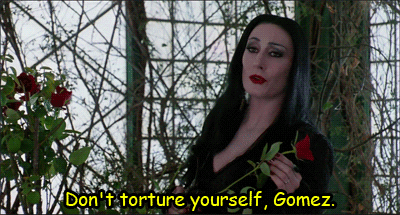 While the spring season was taken care of in my dark garden, I really needed something that would give me year-round darkness. This is where Black Pearl Heucheras came into my life. These are the darkest heucheras on the market, they can be grown in sun or shade & they're evergreen or more like everblack! Yup, Black Pearl Heucheras stay dark all year long, even in the winter months. Who doesn't love year-round interest? An amazing thing about them is that the top of their leaves are black, but the underside of the leaves are bright magenta pink. The color contrast is to die for. I highly recommend this plant. They are so easy to care for, and as far as I'm concerned, they are a must-buy.
I do love my roses, so while making a plant wishlist in the cold of the winter, I made sure to add the Twilight Zone Rose to my wishlist. Lo & behold, my local garden center had it on clearance for $10 during an end of the season sale. You bet I snatched it up real quick with a name like that & color like that. How can you not have the Twilight Zone rose in a dark garden? The flowers are truly gorgeous and they pair well in floral arrangements with Black Pearl Heauchera leaves. I like to make Halloween arrangements with them & some of my orange roses.
This year one of my plant must-haves was the Holy Grail Hibiscus and I was lucky enough to snag it at my local garden center, during a sale, of course. How could I not fall in love with the dark foliage & dinner plate-sized dark red flowers? How can you not fall in love with it too? It needs a bit more sun then my Morticia garden section can give it, so I have planted in another garden bed of mine, but if I had space & the necessary sun, this would be the crown jewel of my dark garden.
That concludes the dark plants that I currently own, however, always on the lookout to expand my dark plant desires, I have an ever-growing wishlist. Next year one of my must-buys is Purple Fountain Grass. These get humungous & add such great texture & architecture to a garden. A Black Lace Elderberry is another plant that I would love to have, but I probably need to relocate a shrub or two to make space for this enormous beast of a plant. I would also love to underplant with Black Petunias.
I hope that all of these suggestions have inspired you to create your own dark garden section. Hells bells, maybe you'll even choose to swan dive from the high dive platform & decide to make your entire garden dark. But at the very least, make Morticia Addams proud & plant at least one dark plant in your garden, you won't regret it!